Complete asset management designed specifically for the Emergency Services.
The Idhammar Systems suite
Whatever stage you may have reached in your digitisation journey, Idhammar Systems can enhance your capabilities, or take you to the next level. From Lean Production to optimising your equipment effectiveness, from maintenance control to maintenance management, from shopfloor to smarter inventory management and purchasing; we'll help you identify and implement essential improvements.
Digital transformation in action
Idhammar Systems use secure SQL data engines for capturing data on the current situation and pinpointing specific elements/events. They help you identify and address root causes and scope for improvement.
Our solution suite is modular. You can deploy end-to-end functionality, or simply opt for those aspects of the software you feel your operations will most benefit from.
Cloud-based or on-premise. We can help you make the right decision if you are at a transition point from on-prem to cloud.
Intelligent and centralised control enables your users to perform routine tasks more efficiently and easily, and deal with problems in their stride.
Idhammar Systems are certified for Quality (ISO 9001) and Information Security (ISO 27001)
Enablement is one thing, but empowerment is something of altogether greater value. Using Idhammar's Computerised Maintenance Management System, your processes work better. Your teams also become more highly motivated, reassured by the technology you use and the priority you place on worker safety.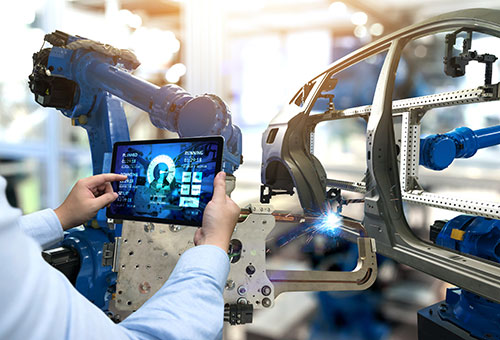 Streamlined maintenance operations are essential. A single source of data brings the entire production facility in sync.
Electronic tracking, prediction and planning of standard testing ensure constant readiness.
We help bring 'smart' to the forefront of a manufacturer's operations.
High throughput production lines must function at highest performance levels all the time.
In this highly regulated sector, uncompromisingly compliant maintenance procedures are essential. Continuous improvement in production excellence is critical.
An extensive range of machine types on thew factory floor requires constant vigilance and diligence.
Lean manufacturing is the order of the day as paper manufacturers find themselves under greater pressure to reduce costs.
The need to drive lower maintenance costs and less downtime is magnified by compliance considerations.
With so much to consider, across so many aspects of your operations, managing change may sometimes appear like a complex project. Idhammar Systems' consultants have direct industry experience and understand your challenges.

We're here to help you make the best move, in the best way:
Home